PARENT TEACHER ASSOCIATION
18th ANNUAL GENERAL BODY MEETING 2019
The Parent Teacher Association of St Theresa's School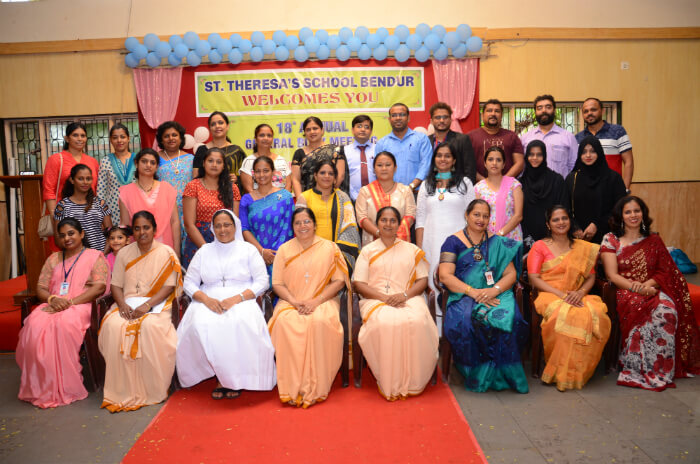 The 18th Annual General Body Meeting of P.T.A, of St. Theresa's School, Bendur, Mangaluru was held on 21st June 2019 at St. Sebastian's Platinum Jubilee hall.
The dignitaries Sr. Mariette B.S- The Chairperson, The Secretary of Bethany Educational Society and Correspondent of the school, Rev.Dr. Fr. Arun Lobo – The resource person, Sr. Philomene Saldanha – The Principal and President of the Parent Teacher Association, Sr. Anita Shanti – The Superior of Bethany Mother House, Mrs. Nynette Tellis – The Vice President of the P.T.A, Mr. Marian Saldanha – The Joint Secretary of P.T.A and parents of the students of Std KG to X attended the meeting.
The dignitaries were accorded by the guard of honour. The meeting began by invoking God's blessings through a prayer song which was followed by welcome dance by the students. The Principal Sr. Philomene Saldanha welcomed the gathering and thanked the P.T.A members for their co-operation and support. Sr. Mariette B.S, the Chairperson insisted that "We have to spend quality time with our children to make them feel loved by listening to their fears, struggles, confusions etc. Dr. Fr. Arun Lobo the resource person stressed on "The 'Z' generation students who belong to the technology generation".
The I.C.S.E top scorers of Std. X who scored 90% and subject wise toppers were honoured and awarded. The school topper Sanjana Kamath expressed her gratitude to the Almighty, Management and School.
The Election of the members of the Executive of P.T.A for the year 2019-20 was conducted. The meeting was concluded by singing the School Anthem.